Discounted same-day research poster printing and shipping for 2018 PAG XXVI attendees

Posterpresentations.com is pleased to offer discounted research poster printing services to the PAG XXVI conference attendees. Free shipping is included in the poster prices. Expedited shipping is also available.


Meeting:
International Plant & Animal Genome Conference XXVIEvent Date: January 13-17, 2018
Location:
Town and Country Hotel
500 Hotel Circle North
San Diego, CA 92108 Website: http://www.intlpag.org/2018/abstracts/poster-submissionEmail: pag@intlpag.org
Submission format and poster size requirements:
We accept both PDF and PowerPoint documents. Our preferred format is PDF. If you submit a PowerPoint file we will send you a digital proof and we will require approval prior to printing.
Posters must be 34 inches wide by 46 inches tall (86.36cm wide by 116.84cm tall). A PowerPoint poster template for that size is available below.
​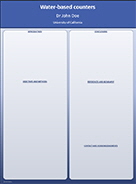 PAG XXVI PowerPoint poster template

Download

34" wide x 46" tall
86.36cm x 116.84cm Click here for tutorials


Turnaround schedule and shipping:
Poster orders placed and paid for before noon, Pacific, Monday through Friday will ship out the same day.
Four shipping options are available to PAG XXVI attendees:
- Free shipping for pick up at the conference.
(Not available after January 1st.)
- Free Ground shipping to any US location (up to five business days)
- Two business day delivery to any US location (add $24)
- Next business morning delivery to any US location (add $35)
- Canadian and additional international options are available at checkout
Contact information:
Please visit the conference website for more information regarding Abstract and Poster Information at the web address provided above.


For questions regarding ordering and printing and turnaround schedule contact PosterPresentations.com at:
510.649.3001 or email to production@posterpresentations.com